Safety Tips for Gifts for Seniors with Cognitive Functioning Decline
December is Safe Toys and Gifts Month, and as a family caregiver, this can take on new meaning while caring for your aging parent. An elderly adult who is struggling with cognitive functioning decline may face new challenges and dangers as their functioning diminishes.
However, this doesn't mean you want to exclude them from the holiday celebrations, or the joy and excitement of receiving gifts. Evaluating the safety of gifts you offer your parent is an important step in honoring them during the holiday season and keeping them involved in the celebrations while also reducing the rest of dangers that could threaten their health and safety.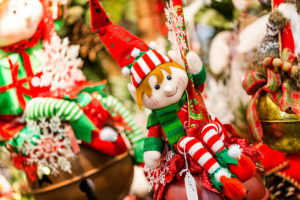 Let these safety tips for gifts for seniors with cognitive functioning decline help guide you towards giving gifts that are meaningful and enjoyable, but also safe and healthy for your senior:

-Avoid any items that contain button batteries. These are the small, round batteries often found in watches and small electronics or battery-operated gadgets. These batteries are very small that can be very dangerous for pets, young children, and seniors with cognitive functioning decline. A battery at that is swallowed can dissolve tissues within the body, cause poisoning, and even lead to fatal injuries

-Avoid gifts that are inedible, but that might mimic something your parents would enjoy eating.
Air fresheners, potpourri, decorative items, and even body products can look and smell like food. For a senior who is struggling with serious cognitive functioning decline, this might compel them to attempt to consume these items. This can be a choking hazard as well as a potential poisoning danger. If you want to give items such as air fresheners or body products, choose scents that do not mimic foods, and instead choose fragrances that are clearly perfumed or are fresh and clean instead

-Avoid gifts that might encourage wandering tendencies. Elderly adults with cognitive functioning decline are at risk of experiencing wondering tendencies that can cause them to leave their home or other familiar place and become lost. Gifts such as binoculars, hiking boots, or bird watching equipment, for example, may cause your parent to want to leave home to use them and can further cause them to get lost

There is a common misconception that elder care is only for those seniors who are very old or who have extensive needs and challenges that keep them from being able to do anything in life. This is not the case. As a family caregiver, you should know that an elderly home care services provider can be a tremendous benefit even for those seniors who are relatively young and independent.
Even seniors who have mild to moderate needs can experience a boost in their health, well-being, and quality of life when you introduce elder care. The personalized services of this care provider can help your loved one to conserve their energy for the things they enjoy, manage their health issues in the ways that are right for them, stay more active through reliable transportation, learn and experience new things, and more.

If you or an aging loved-one are considering hiring Home Care Services in Bala Cynwyd , PA, please contact the friendly staff at Suma Home Care. Call today: 484-200-7347
Ibrahim Suma-Keita Jr studied lived, studied and work in London, United Kingdom when he emigrated as a teenager from his country of birth Sierra Leone. Ibrahim had a illustrious career in Information Technology (IT). However, he emigrated to Philadelphia, where he settled and married to his wife who is a Registered Nurse, they have three children together.

Ibrahim recently completed a Professional Certificate in Management; He is currently pursuing a Masters in Business Administrations (MBA) at a prestigious university in the UK.

With their passion for helping others and a strong background in customer services and clinical care, Ibrahim and his wife started assisting individuals in their homes.

Since started and operating Suma Home Care in 2010 in the basement of their home, Suma Home Care has provided professionals who work endlessly in providing clients with the highest quality of care, while enabling clients to maintain dignity, comfort and safety in their homes.

Suma Home Care, serves four counties in Pennsylvania, Delaware, Chester, Montgomery and Philadelphia. Ibrahim is firmly connected to his local community and is always looking for ways to give back whenever the opportunity presents itself.

Ibrahim enjoys spending time with his wife and children, travelling and enjoys sports.

Mariama Suma-Keita BSN RN
Born in Sierra Leone west Africa, relocated to America in 1999 from a civil war and settled since in the U.S.A as a Naturalized citizen Graduated from National school of nursing with an associate , and completed BSN in Nursing from Immaculata University graduated with Honor roll Alpha Lambda sigma, After escaping the war served as a refugee nurse in Gambia and Guinea to other displaced refugees before coming to America.

In the states started in Homecare then then transition into hospital, worked in Jefferson hospital as a Registered nurse on Tele and general medsurg floor, also worked in Einstein hospital as an oncology transplant nurse , I realized that I enjoy working with patients so much and believe in quality and compassionate care one at a time dealing with an holistic approach in caring for patients and family in a familiar environment called home , I see the impact and progress when they're home , it makes them feel relax and progress fast with recovering at home. As a nurse and entrepreneur I understand that dedication to meeting people and families needs is a priority, and able to foster relationships with family and patients that is professional and friendly to help them stay and settled home as a desire.
Latest posts by Ibrahim & Mariama Suma-Keita (see all)